---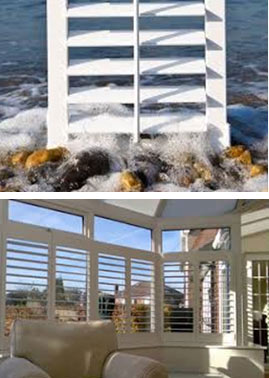 AluCore Poly ShuttersAluCore Poly Shutters – available in 1 week – made in the USA
• Shutters Increase Your Home's Value
• strong and resilient material
• high quality shutters – will not crack, peel, fade, or deteriorate like wood
• waterproof and don't absorb moisture
• high quality painted finish and don't need to be repainted
• Aluminum reinforced Poly Shutters keep it straight and stabile
• louvers never flex or bend because of the aluminum core, panels up t0 36″ in length
• Huge temperature insulation – Insulating factors up to R-Value 6.0
• Superior energy efficiency – 70% better than wood
• considerably less expensive than traditional wooden shutters
• are temperature stabilized, heat and steam resistant
• are particularly suitable in kitchens and bathrooms
• has a "V-0 fire rating" – the highest you can get
• allows them to be used in commercial buildings
• easy cleaning; abrasive cleaners should be avoided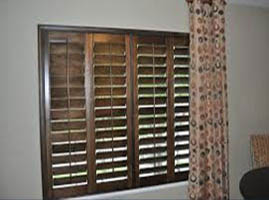 Wood ShuttersThe origin of Plantation Shutters is in the name. They originate in the American South, from the large farms or estates that typically grew coffee, tobacco, cotton or sugar, that were more commonly known as Plantations.
Basswood is now the most popular wood for shutters, outpacing pine and poplar. These can be painted and stained, and are a light, flexible material that makes them good for a variety of designs. However, they're not moisture resistant and they cost more than synthetic shutters. Maintenance is the big issue of wood shutters, they have to be re-painted after a couple of years. The most selling part of wood shutters are the most beautiful warm colors of the wood. It's always the customers decision!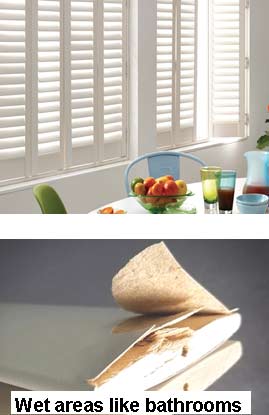 Composite ShuttersBenefits of MDF for Composite Wood Shutters
Is an excellent substrate for veneers. Some varieties are less expensive than many natural woods Isotropic (its properties are the same in all directions as a result of having no grain), so no tendency to split. Consistent in strength and size. Shapes well. Stable dimensions (won't expand or contract like wood). Easy to finish (i.e., paint)
Drawbacks of MDF for Composite Wood Shutters
Denser than plywood or chipboard (the resins are heavy). Low grade MDF may swell and break when saturated with water. May warp or expand if not sealed. May release formaldehyde, which is a known human carcinogen and may cause allergy, eye and lung irritation when cutting and sanding. Dulls blades more quickly than many woods. Use of tungsten carbide edges cutting tools is almost mandatory, as high speed steel dulls too quickly. Though it does not have a grain in the plane of the board, it does have one into the board. Screwing into the edge of a board will generally cause it to split in a fashion similar to delaminating. Subject to significant shrinkage in low humidity environments. Trim (e.g. baseboards) comes pre-primed, but this is insufficient for fine finish painting. Painting with latex paints is difficult due to rapid water absorption. Most finishes appear uneven and nail holes tend to pucker.
>>> More Information about MDF – Wikipedia <<<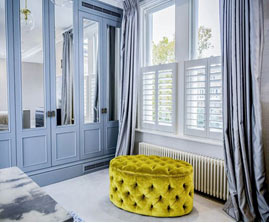 Café ShuttersCafe style shutters are half the height of full height style shutters with panels covering the bottom half of a window only.
Cafe style plantation shutters covering just the lower portion of your windows, maximize the light while still controlling privacy. Perhaps one of the main reasons people choose our Cafe style shutters over other plantation shutter designs, is the form and class that this genre of shutter offers. They look simply elegant in cottages and Victorian houses and are the perfect match for this design of home.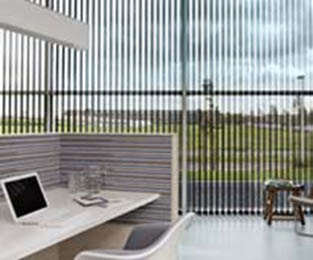 Commercial ShuttersHigh-quality hand-crafted in the USA AluCore Poly Shutters – plantation shutters serving all Florida. They are suitable for all types of commercial spaces in hotels, restaurants, offices and a lot more.
Plantation shutters are a sleek, stylish, low maintenance and long lasting solution for commercial use. Cleaning AluCore Poly Shutters is as simple as wiping them with a damp cloth, duster or lightly vacuuming.
Also named as:
Plantation Blinds – Shutter Blinds – Plantation Shutters – Window Shutters – Custom Shutters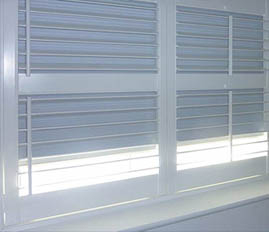 Black out ShuttersWith a Cellular shade / Honeycomb Shade behind the Window Shutters installed.
Blackout Plantation Shutters (known also as room darkening shutters) are perfect for bedrooms or rooms that require almost total darkness. They are ideal for night workers, nursery or a dream home cinema.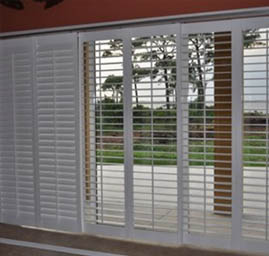 Bypass Shutter On Sliding TrackSliding Shutters are a stylish choice for large window patio doors or dividing a room.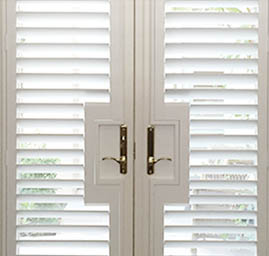 French Door ShuttersFrench Door Shutters are the perfect match for French doors and patios. Installed directly to the door, not the frame with precise cut-outs for handles and locks.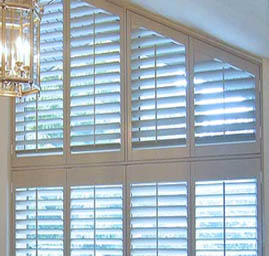 Custom Shape Shutters Custom Shape Shutters fits any size or shape window, door or room divider, they look really amazing.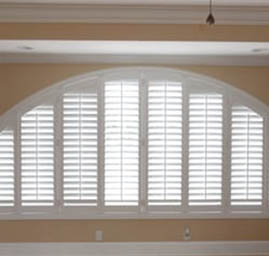 Custom Shutters ArchedCustom Shape Shutters fits any size or shape window, door or room divider, they look really amazing.
---