---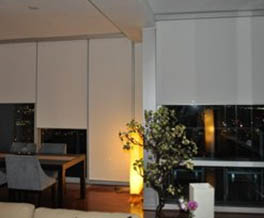 Roller ShadesWhy choose roller shades? What are the benefits of roller shades?
Curtains can make a room feel smaller because of their bulkier design. Many people go for roller shades because they offer a space efficiency solution, a sleek modern option which fits with any home decor.
Roller shades are very useful in windows that are difficult to reach.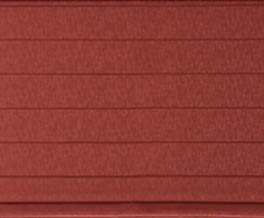 Roman ShadesRoman shades work by raising and lowering panels of material using a quality contemporary side chain control headrail system.
They can be mounted to the ceiling, above your window or into your window opening.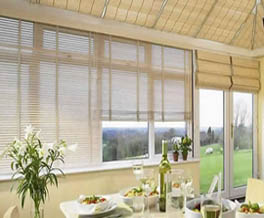 Bamboo Shades – Woven Wood ShadesA fabulous range of very high-quality natural wood weave bamboo shades. A collection of exotic woods, grasses, and bamboos that filter light into your room, creating a calm, soothing ambiance. Specially selected from managed sustainable forests around the world.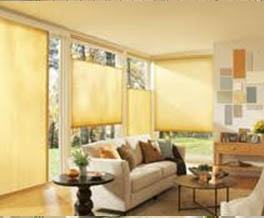 Cellular Shades – Honeycomb shadesEnergy efficient, stylish and versatile. Honeycomb blinds are characterized by their unique smart cellular pleated design. The cells provide an insulation barrier that reduces the exchange of heat in the summer and maintains warmth in the winter. The double-walled honeycomb structure makes the fabric extremely strong, durable and flexible. There are many different product options available to you for honeycomb blinds, including Corded, Vertical, Cordless and Motorized.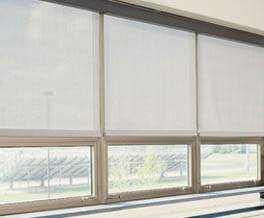 Solar ShadesA manually-operated window shade, the Solar Roller Shade features a light-duty clutch.
This shade provides an affordable option for smaller window applications.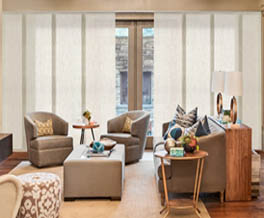 Sliding and panel track shadesPanel tracks / Sliding panels perfectly suit any home, but look especially stunning when paired with large windows or patio doors, or used as a room divider to create new spaces to work, rest and play.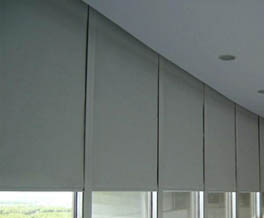 Room darkening Shades with sidetracksBlackout shades motorized or manual operated with side tracks, for windows where is needed to darken a room. Great for Theater rooms or Bedrooms.
Unwanted sunlight can ruin your atmosphere, but not with a blackout shade with side tracks.
Enjoy a full 8 hours of sleep and wake up when you desire.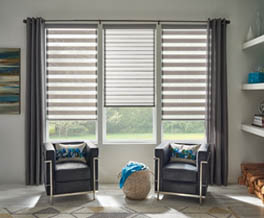 Transitional Sheer ShadesThe softness of a fabric shade combined with the functionality of horizontal blinds – transitional sheer shades are here. Solid and sheer fabrics are arranged in alternating order that can be rotated to adjust privacy and lighting as per your convenience.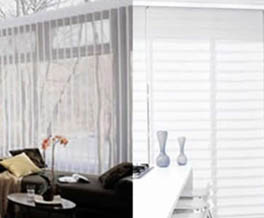 Sheer ShadesWith gentle sunlight filtering properties, the selection of sheer shades fabric is efficient in filtering the UV rays and is used for these shades in beautiful colors. Suitable for all types of interiors, these sheer shades allow the light of the sun to enter the room but keep a lot of heat out.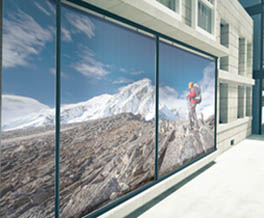 Commercial Shades – Creative ShadesTo add a personal touch to your space, you can get the artwork created by you or someone else printed on the shades to create a style so unique to you. Not only do creative shades look great, but also come in a variety of options to open and close for greater flexibility.
Create commercial roller shades or exhibition display banner for your bar, office or
restaurant using one of your own images or your own logo.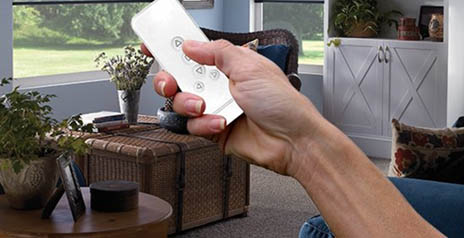 Motorized ShadesWhile motorized shades can completely raise or lower, it is Ideal for hard-to-reach windows, child and pet safety, media rooms and bedrooms.
---