---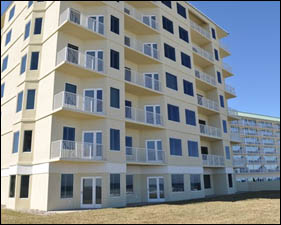 Commercial Application – Custom Solution• Automation available for maximum indirect light.
• Superior solar heat gain control.
• Standard color options available.
• Architecturally aesthetic designs.
• Face and top-mounted Window Shades
• Metal system Aluminum blinds.
• Product designed for interior use.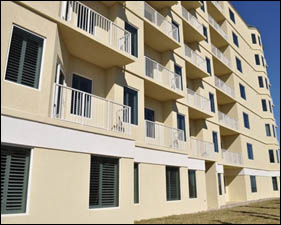 Commercial Plantation ShuttersPlantation shutters are the perfect window covering for hospitals, hotels, restaurants, office buildings, and other commercial applications. For superb style, durability, and versatility there is no better choice.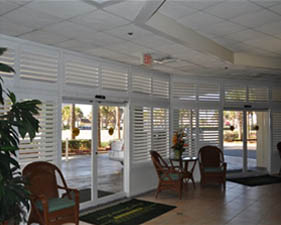 Hotel Lobby – clean lookWith ALU CORE Poly Shutters® baked on finish, the only way they usually get dirty is if dust settles on them. An occasional dusting is all that is needed. Even if someone with greasy hands touches them, there is no need to worry. Unlike wood interior plantation shutters, ALU CORE Poly Shutters® can be cleaned with almost anything. Do not use anything with abrasives or solvents, but normal household furniture cleaners are just fine.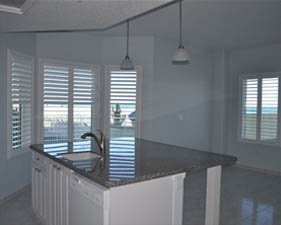 Hotel roomsWhen open the shutter there is an undistracted view to the ocean through bigger sized louvers.
When the shutter is closed, it offers an excellent light and privacy control and also offer high insulation thus keeping energy bills low.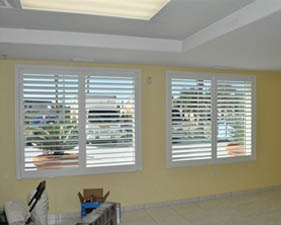 Hotel Play RoomHotel playroom space has a modern, sleek, playful look with no distraction from protruding window treatments in the room.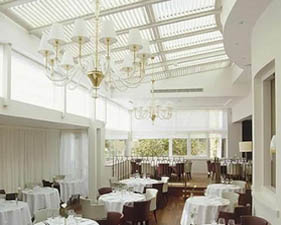 Motorized Restaurant Ceiling Shutters ALUCORE POLY SHUTTERS ® insulating factors up to R-Value 5.9 !
Superior energy efficiency – 70% better than wood and 1,600% better than aluminum.
Motorization makes window coverings easy to operate with the use of a remote control or programmed timer. Depending on the product, you can raise and lower coverings, tilt louvers or vanes and set timers to control opening and closing.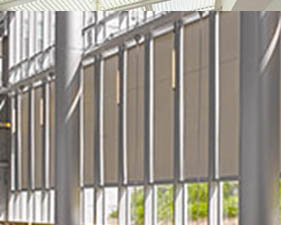 Commercial shades Commercial shades like solar shades are an ideal window covering choice for commercial situations, providing durability, energy-efficiency, in addition to UV control. Commercial shades, blinds and shutters help to the overall functionality of the basis in areas that require comfort, user friendliness, safety, and energy usage.
---