Gator Blinds
We started our custom window treatment business 12 years ago
with the opportunity in mind for your success!
Gator Blinds offers a shop-at-home service for window treatments and more!
We are providing our Franchisees with top-of-the-line, products, hands-on training,
and support to become the most knowledgeable window treatment experts in their industry.
We have partnered with the top vendors in the Florida area and beyond.
Our business experience has proven to provide you with the best products and customer service,
also to receive referrals from clients who will praise your service and work !
$27 BILLION per YEAR INDUSTRY 2018
The window Treatments industry continues to grow,
now reached over $27 Billion in sales each year.
Industry Insights
The global window covering market size was valued at USD 27.6 billion in 2018 and is expected to expand at a CAGR of 4.2% over the forecast period. Robust development in economies is likely to drive the market in the forecast period. Increasing disposable income of the consumer group has led to frequent change in coverings with changing wall paints and other home décor items.
This has also become the prominent factor to propel the market growth.
Furthermore, rapid urbanization has increased the number of households, which, in turn, will propel the market growth in the forecast period. For instance, it has been projected that the number of households in U.S. will increase by 12.2 million between 2018 to 2028. This is expected to fuel the overall market growth for the coverings in the forecast period.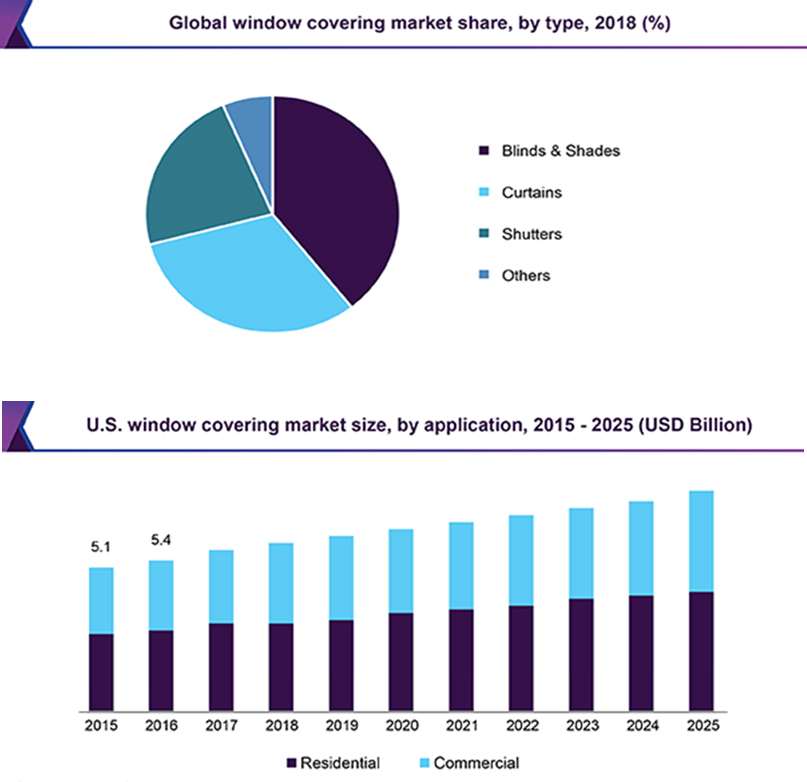 WHY SHOULD YOU START YOUR OWN BUSINESS?
CRASH – PROOF BUSINESS
If the economy is booming or is a little slow, the window treatment industry grows yearly.
Everyone needs window treatments – New Homes or Remodeling!
The remodeling business is min. 4 times the size of new home construction.
Commercial applications: Restaurants – Office buildings –Schools
Dealerships – Apartment buildings – Doctors offices and more.
START-UP your business -We show you how !
BE YOUR OWN BOSS
WE give you a Hand and all tools to start your company.
Online Marketing Tools -Our online web marketing team to give you the possibility to receive leads.
Window Treatments products -approved Vendors for profit.
Training – show you how to operate, market and promote your new window treatment business.
Working from your home -your home as interim storage for one or two orders until installation.
NO INVENTORY NECESSARY